Welcome to our atelier.
Built upon the twin pillars of obsessive craftsmanship and an enduring social mission, Musubi is an atelier devoted to the careful, ethical creation of small goods.
Our operations exemplify our philosophy of direct impact:
Our handbound journals are made in Singapore by artisans with physical and intellectual disabilities, providing them the employment stability and opportunities they previously lacked.
In Peru, Southeast Asia, and other locations across the globe, we work with indigenous communities threatened by violence, climate change and political upheaval.
Where direct impact is not possible, we use the proceeds from the sale of our other products, such as our folio notebooks, to help fund the atelier's social impact work on disability employment and support for indigenous communities around the world.
By paying our artisans a fair price for their work, we establish proper infrastructure and employment, ensuring both that traditional craft is not lost to the ages, and that the most vulnerable amongst them — often women and children — have safe places to live and a future to strive for.
The end result: every Musubi creation directly and measurably benefits the least fortunate amongst us. Come along with us as we tell a story with meaning.
Musubi is proud to be a full member of raiSE, the Singapore Centre for Social Enterprise — a collaboration between the Ministry of Social and Family Development, National Council of Social Service, Social Enterprise Association, and Tote Board. We carry the Business for Good qualification mark as a recognition of our social enterprise status.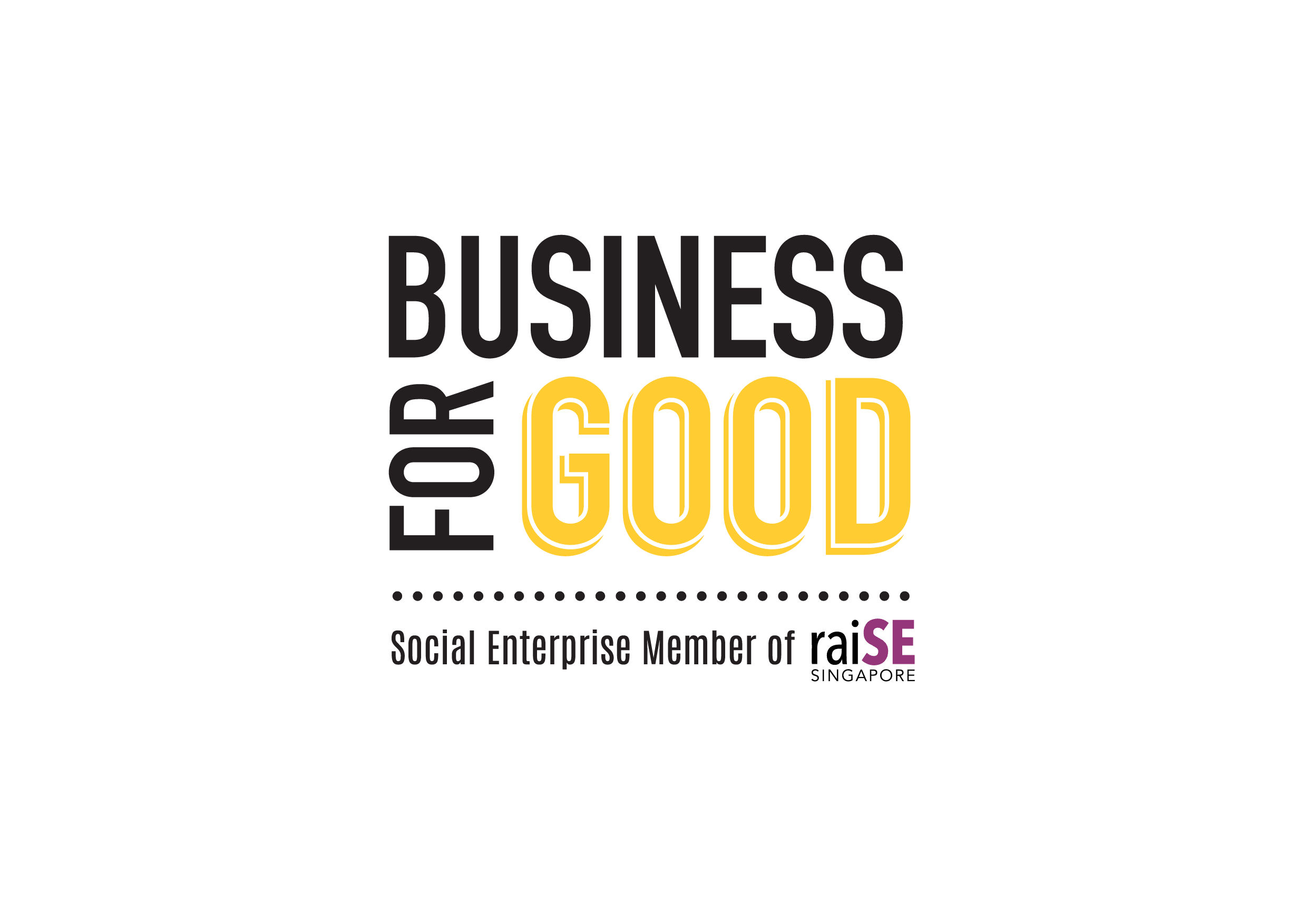 Craft preservation
In an age of fast fashion and throwaway consumption, traditional material makers — with their focus on techniques executed by hand and craftsmanship that should last a lifetime — increasingly find themselves struggling to stay relevant.
Working together with these makers, the atelier breathes new life into fabric and paper by integrating modern manufacturing methods and cutting-edge technologies, including the use of CNC milling, laser cutting and 3D printing. This innovative, old-new approach allows us to find new uses for traditional crafts, helping preserve them for generations to come.
Indigenous support
Our One Musubi initiative extends our craft preservation efforts by reaching out to disadvantaged communities around the world. These communities are often threatened by everything from climate change to economic non-viability, and even political and cultural discrimination.
Working closely with local partners, the atelier uses its global reach to give these artisans access to a wider market than they could achieve on their own. By compensating fairly for work we provide artisans and their families with much-needed financial support and empowerment; by providing the proper respect and context for these crafts we raise awareness of these communities' proud histories and the difficulties they face in trying to preserve their way of life.
Disability employment
Our handbound journals are made in Singapore by artisans with physical and intellectual disabilities. By working together with local NGOs, the atelier helps provide these artisans work opportunities they previously lacked, the stability that comes with constant employment, and the sense of self-worth that arises from being a master craftsman.
Artist opportunities
Through its Made for Good programme, the atelier invites established and up-and-coming artists of all stripes to collaborate on a variety of special edition releases. A portion of the proceeds from these releases is donated to a charity selected jointly by the atelier and the artist.
Sustainability
The atelier believes that the only ways to make consumption sustainable are to both reduce the amount we consume where possible, and to engage in smarter, more considered consumption otherwise. We achieve these goals through a combination of clever design, high technology and a sustainable production model.
All Musubi packaging is stripped of purely decorative extras where possible, and designed to be repurposed for an alternate use — the boxes for our handbound journals double as pen trays, for instance, while our artisan certificates have a grid guide printed on their reverse. In addition, we prioritise materials that are either biodegradable or fully recyclable.
Further, the atelier adopts technology in order to minimise excess material at every step of the process. Leftover fabric is first kept to a minimum through the use of high-tech manufacturing methods such as laser cutting, and any unavoidable scraps are either recycled or used in various upcycling projects at the atelier.
Diversity and inclusion
We actively seek to represent a wide range of voices when we hire and collaborate. The vast majority of our teams are led by women and persons of colour, and our artisan teams are similarly diverse.
Our indigenous support initiatives are always taken in collaboration with local partners, and the artisans we work with are directly involved in shaping the form of the projects we undertake, ensuring that their voice as a culture is heard.
A selection from around the world
Whether draped around the body or wrapped around a diary, fabric breathes, falls, and flows with a warmth and vitality all its own. Under the light it shades and colours; beneath the hand it reveals the intricacies of its texture, fibre upon fibre looped into warp and weft.
Working directly with fabric makers large and small, the atelier creates and curates a selection of fabric from across the world. From the simple, machine-loomed print cottons that make up our staple lineup to the complex handwoven fabrics that go into our special editions, every cut of cloth that makes it into the atelier is chosen for its colour, pattern, drape, and the signature handfeel that characterises each and every Musubi creation.
Tomoe River
Originally developed for use in Japanese print catalogues, Tomoe River is a speciality paper designed to meet the unrelenting demands of that industry: strong, light paper that captures ink securely and represents its colours accurately.
Made at Tomoegawa's paper mill at the foot of Mount Fuji in Shizuoka, it achieves these properties through the use of a eucalyptus-pine pulp blend and a specialised, proprietary coating that respects the sheen and flow of inks upon the page whilst ensuring that colourfastness and accuracy are properly preserved and presented.
Portable yet durable, this paper is ideal for a multitude of uses from writing to sketching, and is considered by some fountain pen enthusiasts to be the holy grail of papers.
Bank Paper
Made in small batches at Mitsubishi's paper mill in Himeji, Bank Paper was first created for use in bank ledgers at the Mitsubishi Group's financial arm in 1960.
Seeking both adaptability to everything from pencils to fountain pens and the strength to withstand constant use in a busy ledger, Mitsubishi's engineers combined a proprietary blend of two pulps and a special cooking process to create Bank Paper, a unique paper with a slight texture and a gentle off-white colour.
This paper features fantastic colour accuracy and softens one's writing, making it suitable for diarists, artists and anyone who wants a stronger, more substantial handfeel from their medium.
Cosmo Air Light
Originally designed as a lightly-coated paper for book printing, Cosmo Air Light's most unique quality is its surface texture, which feels a little like a velvety dry-erase board, and spreads ink out slightly instead of pooling it in a single spot. As a result, inks sheen vividly and shade vibrantly, bringing out elements of colour and contrast in ways often unrivalled even by papers like Tomoe River.
With moderate dry times — quicker than Tomoe River, but slower than Bank Paper — and a good upper-middleweight thickness, Cosmo Air Light combines both the practical elements necessary for daily use with the ability to bring out the full potential of broader nibs and more deeply-shading inks.